Installing Wall to Wall Stair Treads 


Tools and Materials

Tools and Materials you need for installing hardwood stair treads are:
Stair Tool - You'll need this tool to make templates of each step - there is never a perfect square tread. If, you don't own one, you can use construction paper to make a template of each step. Learn how to make a template on our staircase winders page. Don't have this hardwood staircase tool, You can purchase one at The Stair Tool.com
Sliding Miter Saw - You can sub this with a jig-saw and belt sander also. You can rent these installation tools from your local tool rental, If you don't own one.

Table Saw - You'll need this tool to make relief cuts or sometime rip stair tread width down to size. Treads are mostly sold at 11 1/2" width x 48".

15 Gauge Finish Nailer - Use a pneumatic finish nailer, if possible, this can be rented. Otherwise, sub this tool with a power drill and drill. To drill pilot holes, 1/16 drill bit, 16 gauge 2 inch finish nails(galvanize or stainless), and hammer.

Brad nailer - For Scotia moldings, trims and small pieces

Liquid Nail - Use a high quality polyurethane glue. This is what will be holding your hardwood staircase tread in place.

level - Use either a 12" bullet level or a 24" level.

Carpenter's Shims - These are only around $3.00 a pack. If you're working with an old set of hardwood staircase, you'll need a lot.

Hammer

Pry bar - You'll need a flat pry bar and if applicable a pry bar that is of long length - 36". Which will give you more leverage when removing the stair tread.

Anvil Plier and Tack nail remover

Pencil

Utility Knife

Wood Glue

Misc. items - Nail set, Blue painter's tape, scriber or scribe block, latex wood putty and putty knife.

Hardwood Stair treads - A standard set will consist of 12 stair treads, 13 risers, and 1 stair nosing.

Scotia Molding - Use a 1/2"x3/4" scotia. This will have a wider front reveal, which will stand out more than a 3/4"x3/4" scotia. It will add more of an architectural look.
Installing Stair treads: Let's get started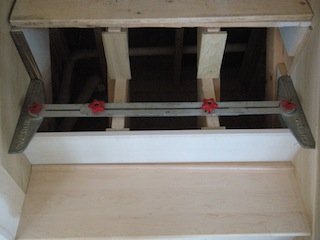 Use a stair jig tool for easy templates
1. Remove carpet and tack strips. If, the hardwood staircase  riser's (front piece) are in good shape, then de-nail and prepare for refinishing or painting. Use an, anvil plier and tack nail remover to remove the carpet staples and any unwanted fasteners. Use a rolling action, with your anvil pliers, to prevent fatigue.
Tip: Always, pull staples and nails the same angle it was put in. If, you work against this angle, it will only make the job tougher.

Depending on, how the original hardwood stair tread installation was assembled. It can be either treads butted to the riser or the riser sitting on top of the stair tread. This will determine whether you start at the top and work down or vise versa. In this installation guide it will be a bottom to top.
2.Remove the first starting step, use a flat pry bar and hammer. Take the hammer and give it a whack on the front edge, to raise it a little bit. Once, you've raised the hardwood treads a little. Use a long pry bar to finish removing the tread, you'll be able to do this with very little effort. De-nail and clean. Check your stair tread stringers to make sure, it's level, on the width and length, front to back and side to side. Use either your bullet level or a 24" level.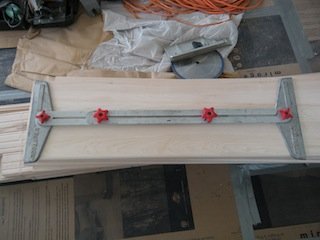 Transfer your jig over to your work piece and mark it with a sharp pencil
If, the staircase stringers are not leveled, adjust with shims. Find the highest point and shim all stringer height to this point.
3.With your Stair Tool, make a template of your tread. Adjust the stair tool tight to your side boards. Your stair tool should be touching the front of the riser and the 2 side boards (left and right). Lock your Stair tool in place, then carefully remove it. Careful not to hit any other surface, with the stair tool. This will result in an error and a miss cut, money out the window .
4. Place the stair tool same way you template your step, on your replacement hardwood staircase tread. Choose a good side to trace your template onto. This will be the top of your tread. Most stair treads are pre-sanded on one side, just look for sanding marks. If, you purchased reversible hardwood tread, choose the best side. Mark your piece, then, put a marking on the keeper side of 1 corner, use the marking for identification for when you have to make a re-cut. With the same template, mark your Scotia to length, also.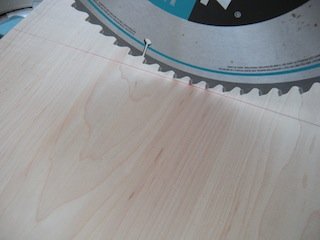 Lasers make it easy to line up your saw blade with cut marks
5. Using the miter saw. Cut the sides of your tread. Be sure to adjust the angle of your miter saw to cut your traced outline. Before you make that cut, make sure you have the saw blade on the correct side of the line. Otherwise, you'll have a $30.00 mistake. Saw blade should always be on the waste side. At this time, cut your Scotia, also.
6. Test fit your hardwood treads, before permanently installing it. Make adjustments, if needed. Sometimes it's difficult to make a hairline cut. Instead, use a belt sander with a coarse grit abrasive, to tweak. Some side boards, maybe cupped, compensate for the error, leave a little extra. Scribe it, then, use the belt sander to sand to fit, for your staircase installation.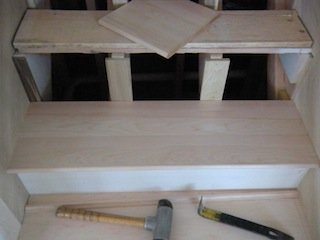 Dry fit your tread, make adjustments as needed
7. If, the back of the tread does not rest tight to the face of your riser, this also should be marked. Before doing so, check your edge overhang. Maximum overhang is 1 1/2", check with your local building code on your stair installation, to find out actual dimension.

To figure out your overhang dimension. It should be the width of your scotia (example: 1/2" x 3/4" scotia, width ='s 1/2") + radius of your front edge(3/4" thick tread, radius = 3/8")+1/8" reveal = 1". Your tolerance for error should be kept within +/- 1/8". Generally being said, your staircase installation, overhang can be anywhere from 7/8" - 1 1/4", for a 3/4 thick stair tread.
Tip: Make a depth gauge out of scrap material. To check your staircase installation overhang. 2 pieces of wood that forms a 90 degree angle with one side measuring the maximum depth allowed - 1 1/8".
Place it on the front edge of your hardwood staircase tread. At the correct depth, your gauge should touch both the front edge of your treads and the front of your stair riser (below). Scribe and cut your treads to the proper width. Your finished tread width should be, the measurement from the front of your starting riser to your second riser + your overhang.
Example: Riser to riser = Tread width(9 1/2" + 1 =10 1/2") Finish width equals 10 1/2"

Check with your local building code to find out what minimum and maximum width requirements allowed. Normal stair tread width are 10 1/2" and 11 1/2". Minimum hardwood stair tread width is 9".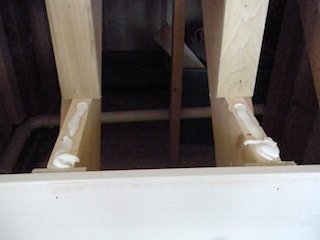 Use polyurethane glue to silence those squeaky steps
8. Mark the location of your stringer on your riser. Apply a generous amount of liquid nail onto the hardwood staircase stringers. Place the tread in place, then install 2 nails per stringer. Then install your scotia molding, using a brad nailer to fasten it in place.
Note: The stair tread only needs to sit tight, on your stair stringers, for your hardwood staircase installation. Gaps along the front can be covered up by your scotia molding. Consider raising your riser or adding a filler strip, if the gap is wider than the width of your scotia molding.

Note: Do not be concerned with squeaks at this time. As long as you applied enough adhesive. When this sets up, it will eliminate your squeaks.

9. Repeat, steps 2 through 8, until you've reached the top.

10.Cut in your stair nosing and scotia. The overhang of your stair nosing should be the same as your  tread overhang. Fill your nail holes then sand and finish.
That's all there is to it. If, you have an "easy" button, push it.
A wall to wall hardwood stair treads installation is the easiest to install, of all staircase installation.

You can also pre-finish you treads, before installing them. You'll then, be able to use it right away. You can use this same templating technique, for your stair risers.


Tip: If, your risers have a damaged surface and you are planning to paint it. An inexpensive fix to your hardwood stair treads, is to give it a face lift, by cutting an 1/8 piece plywood and installing it to fit over your riser, then paint it.

Do you have a set of hardwood stair winders in your home?

Learn How to construct and install your own hardwood stair tread winders, 
No stair tool? Not sure about code?