Wide Plank flooring
Installing wide plank flooring


Installing plank flooring - Not much different, from installing hardwood flooring strips. But with one added important step - glue. Yes, sticky, messy glue. Regardless of the mess, it's the most important part of wide plank hardwood flooring installations. Of course, this applies to only planks that are wider than 5 inches.
Why is glue so important?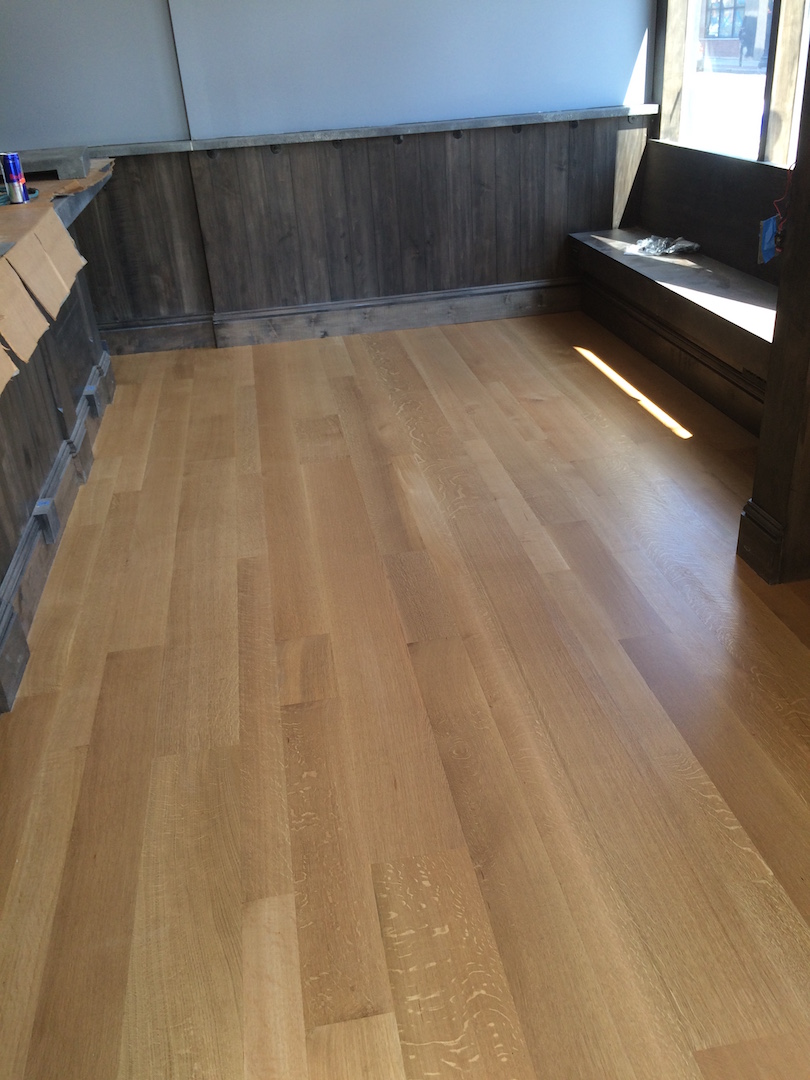 Why is glue so important? The glue is additional fasteners for wide planks wider than 5 inches. If, you don't use flooring adhesives. You are only fastening your flooring boards along the sides of the planks with nails, cleats or staples. Leaving the middle, floating. Issues you will have in the future are bowing, cracking, noise and total hardwood floor installation failure. Your hardwood flooring will not stay flat. The middle will lift up and you will be walking on a uneven surface. A nail down flooring installation will turn into a floating floor installation, eventually.
The glue acts as a vapor barrier. We all know how important a vapor barrier is. We don't want moisture damaging our floor from underneath. We abuse it enough from the top. Not only that, the glue will not deteriorate over time, due to moisture.
The glue is a sound barrier. Why would a sound barrier be so important? If, you own a multi-level home, being able to reduce noise from other parts of the home is priceless. Foot traffic, music, tv and noise in general. Nothing like peace and quiet.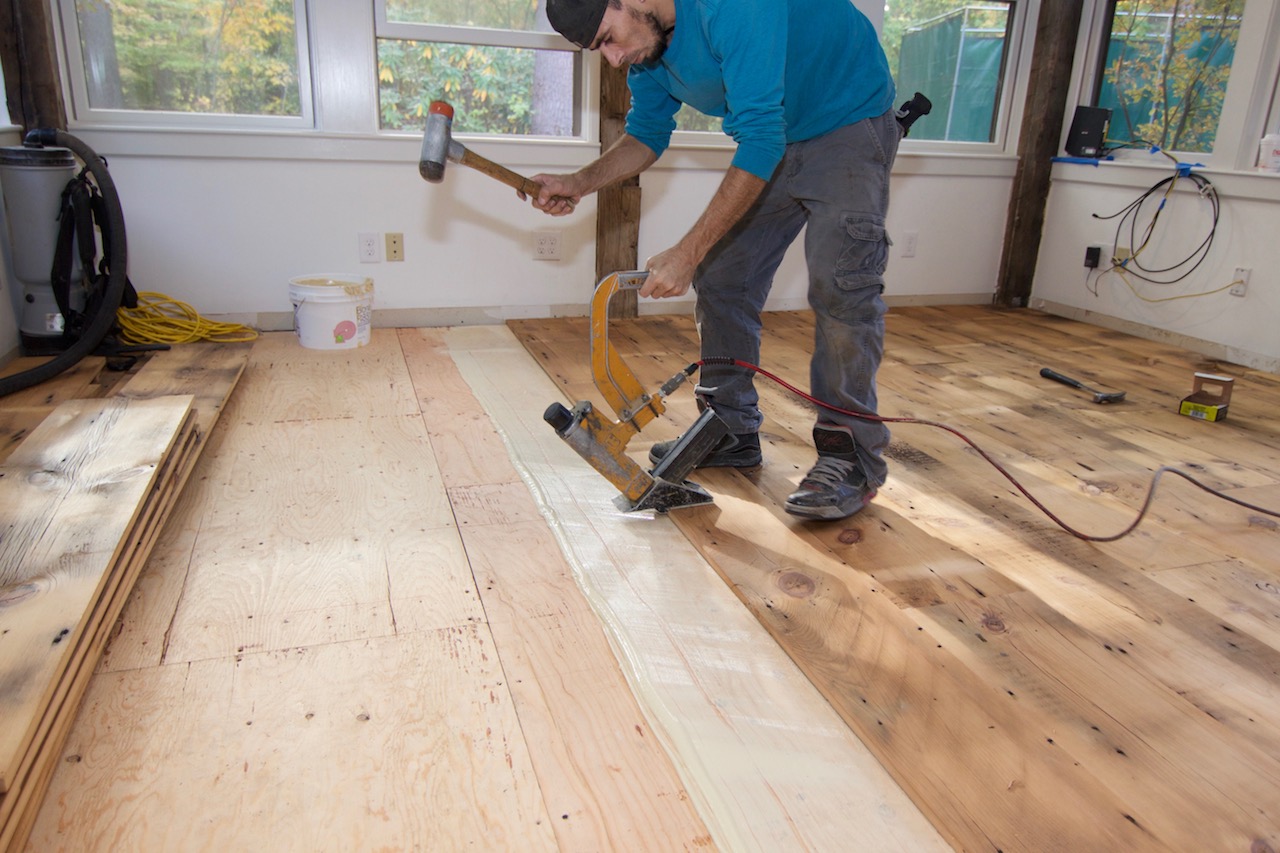 Wide plank installation
Full spread glue down and nail assist installation
Choosing flooring adhesive


There are different types of wood flooring adhesives. The only type that you want to use is a 3 in 1 wood flooring adhesive. You will pay more, but well worth the investment. The wood flooring glue has three main functions: moisture barrier, sound barrier and adhesive as mentioned above. The moisture  barrier and adhesive is the two most important features. Another, important function is allowing the planks to move: expand and contract as needed. This will help avoid any stress cracks in wide planks. Avoid using any other types of flooring mastic, that are too firm.  My favorite Adhesive to use is Wakol's MS 290 flooring mastic. Spreads easy and has a long working time.
Wide plank flooring installation


Begin your wide plank hardwood flooring installation. Using the proper sized trowel, this will depend on the flatness of the sub-floor. Deep trowel for irregular floors and shallow trowels for very flat floors. Click the link, for more information on glue down flooring installation. Snap a straight line, then apply glue to a 12"-20", from wall to wall section. Face nail your first straight row. Then staple the rest of the floor boards, until you reach the end of the glue patch. Click the link, for information on hardwood flooring installation. Now apply glue to a larger 24"-36" section and continue your plank flooring installation, repeat the process until complete.  Did you find our page useful? Click the like and share button, so we can bring more tips to you.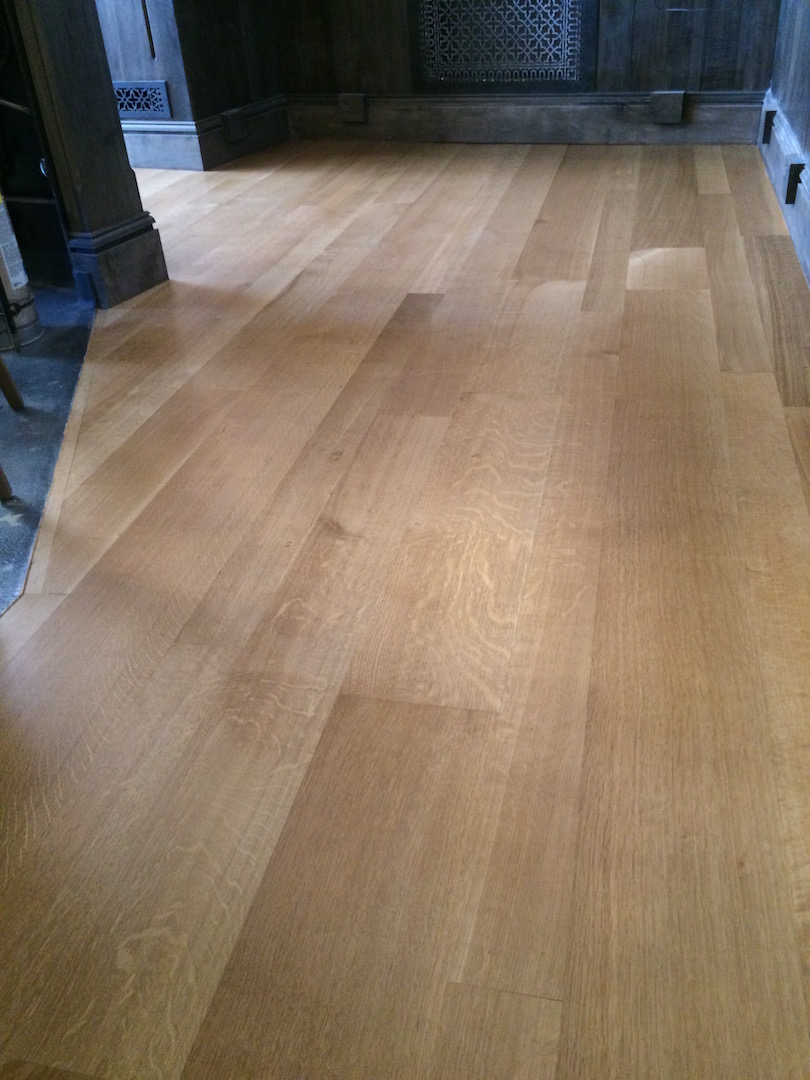 Need a contractor? Get it done right the first time.

Professional Development: G & S floor service