Refinishing Hardwood Floors
Vacuum And Tack
Refinishing hardwood floors
Cleaning
This part everyone knows how to do already, Right? Well, let's make sure.
Before, continuing with this refinishing hardwood floors guide, let's
sweep up all heavy dust
, that's left on the woodfloor.
Will use the vacuum, to
vacuum all fine dust.
First,
clean along edges and hard to reach spots, with your crevice tool
. Then switch over to a
hardwood floor surface attachment
, this attachment should have a
soft felt padding
on the face to
prevent from scratching
your newly sanded hardwood floors.
Avoid, using attachments that has a
hard bristle brush
, When refinishing hardwood floors. They don't clean to well, and may
scratch
the surfaces of the finish.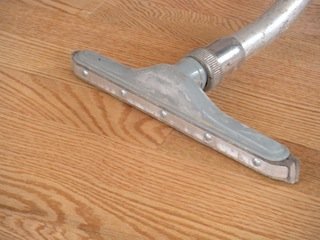 If, you have a shop vac, the attachment on these have a
rubber sweeper
, careful this does not leave a mark, on your woodflooring.
Becareful not to mark the floor at this point
. If, you do you can
hand buff it
with the 120 grit screen to smooth scratches out.
When using with this piece,
vacuum with the grain of the wood
. You'll less likely scratch or mark up the surface. And if you do, it won't be as noticeable.
If you need to
vacuum across the grain
, just becareful. We don't want to have to do anymore, additional work.
Once you've completed this task, it's time to tack the floor.
This is an important step , when,
refinishing hardwood floors
.
Tack the flooring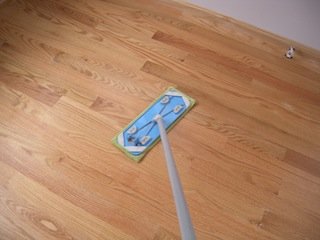 You can
tack
your hardwood floors with a
damp rag and mineral spirit
.
Start from the furthest point from the exit and work towards it. As your wiping the floor, periodically check the floor with your bare hands to check for dust.
Re-tack the area that has any traces of dust.
Repeat this process until your surface is dust free.
Another way to tack your floor
.
Use a
microfiber dust mop
The fibers on these mops are a
dust magnet
. You don't have to be on your hands and knees. And it's just
minutes
to tack an entire room.
Starting at the furthest point, from the exit. Work towards the exit point.
Do not push the mop back and forth
, by doing this you'll just be
pushing
the particles around and at every stop you'll
leave
dust particles behind. What we want to do is remove all dust particles.
Place it on the woodfloor, with firm pressure,
drag
the mop the direction of the grain, towards the exit wall. Continue this throughout the entire room, then work your way out.
Mop across the grain
, towards the exit, making sure you
overlap your passes
. Periodically, stop and check your microfiber mop. If, it's clogged with dust, remove the dust by vacuuming the dust from the mop.
Repeat this process until your room is dust free or exceptional to your liking.
Now, we're ready to apply the wood floor finishes.
Applying wood floor finishes
Learn sanding tricks and tips
on
refinishing hardwood floors
on certain types of wood flooring like:
Antique Flooring
Reclaimed Heart pine Flooring
White Pine Flooring
Maple Hardwood, Birch, and Beech Hardwood Flooring
Brazilian Cherry, Santos Mahogany, Teak, And Ipe Wood Flooring
White Oak and Red Oak Hardwood Flooring
Repairing Common Wood Floor Sanding Issues
G and S woodfloors Lynn,Massachusetts
Google+