Concrete floor leveling
Concrete floor leveling and restoration how-to's

Chances are that your concrete floor is out of flat and a concrete floor leveling is required. Well, you came to the right place to learn how to do a concrete slab restoration. If, you plan to do a floating floor or a glue down flooring installation over a concrete floor. It is rare to find a concrete slab that is within, installation tolerance requirement of 1/8" flat over a 5 ft radius. In this article, you will learn how to properly level a concrete slab using a cement based self-leveling compound and learn which tools are required to properly do this job. I can't say it's an inexpensive process. But a very important one. One which will determine the quality and longevity of your flooring installation. Grab your tools and let's get started.

Tools and materials needed for this project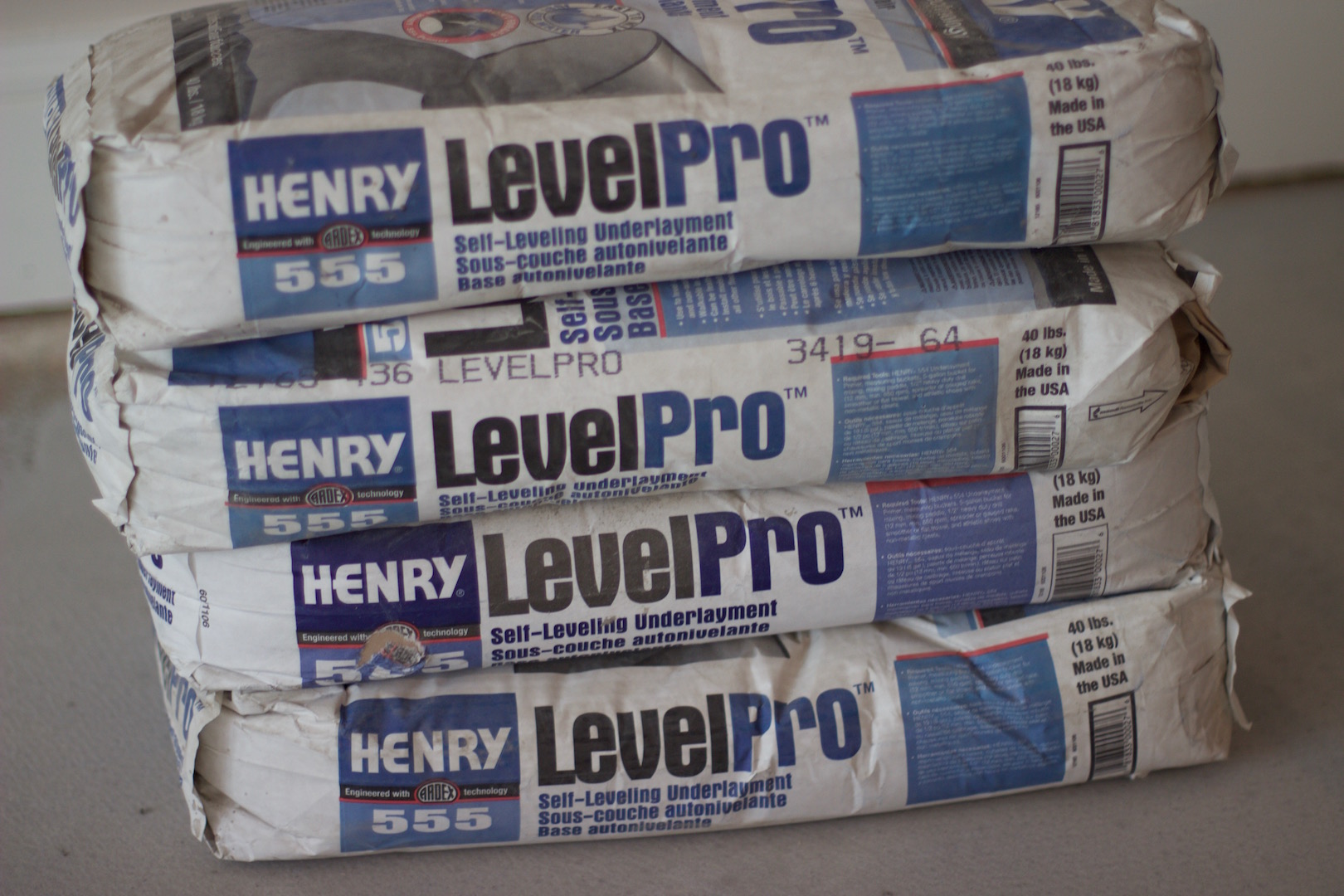 Self-leveling compound
Dispersion primer - for maximum adhesion between new and old substrate. Prevents feather edges from cracking and chipping.
Broom or paint roller -  

for primer application

Self-leveling compound
Hammer Drill gun and mixing paddle
5 gallon bucket
floor squeegey
Spike roller -

to remove the air bubbles from the leveling compound and assist the product to level

Spike shoes or sports cleats -

Allows you to walk on the wet surface, without leaving shoe prints

Vacuum 
The key to a successful level is to pour the entire area


For maximum adhesion use a dispersion primer before pouring your self-leveler
Start by vacuuming the surface, make sure it's clean of all debris, oils and contaminants. Remove any loose paints or broken pieces of concrete.
Mix your dispersion primer according to manufacturer's instructions.  This instruction explains how to apply Henry's 554 dispersion primer. Starting from the furthest point from your exit. Pour a 2 foot puddle onto the floor and use the broom to spread the finish and coat the concrete floor. Coat the entire area. For edges, coat as close as possible, within 1",  without touching your wall or baseboards. Allow the dispersion primer to dry according to the manufacturer's instruction. Our product required a minimum of 3 hours to dry to a clear film. Do not skip out on the dispersion primer. Your floor leveling compound will crack and come loose. You will either end up with a noisy and loose floor.
After your primer has dried, it's time to pour your concrete floor leveling compound. Here we are using Henry's 555 self-leveling compound. Where you can pick up at any home centers. There are other similar products. Just be sure to follow the manufacturer's instruction for proper application. Mix your self-leveling compound a bag at a time into a 5 gallon bucket. Have a helper mix the product for you. It will help move the job along faster. And you can focus on leveling the product.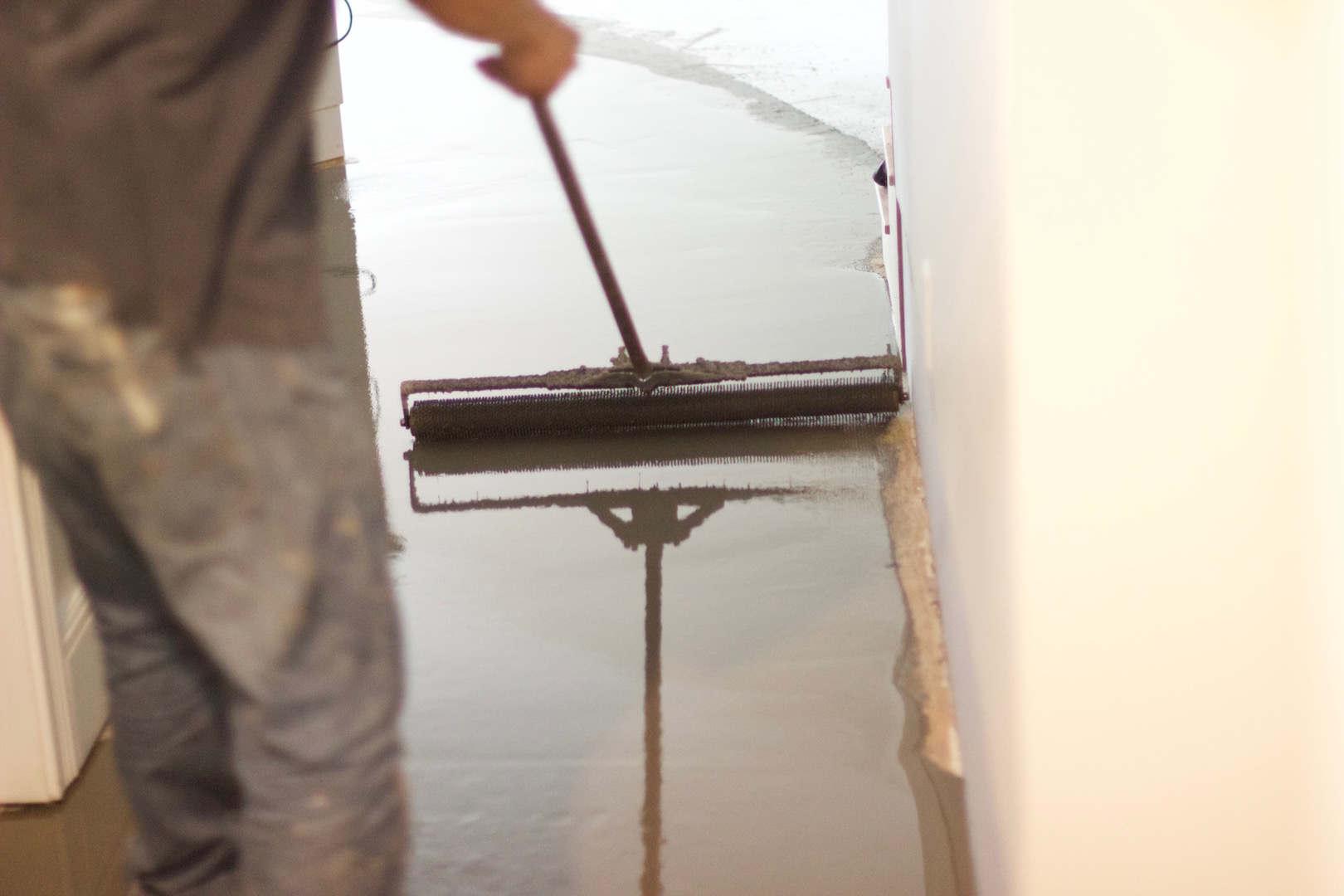 Remove air, lumps and bubbles with a spike roller


Strap on your spike shoes or sports cleat. Starting at the furthest point from your exit. Pour the mix onto the floor and use the floor squeegey to spread it. After you have spread the mixture out. Use a spike roller to remove the air from the mixture, which will allow the floor leveling compound to level itself. Roll slow near walls to prevent the compound from slinging onto the wall.
Repeat the process, until you have the about 200 sq. ft. area covered. 
Using plastic and tape to test for moisture
Walk back into the area with the spike roller. And begin to roll the entire space, until you remove any lumps and unevenness. When properly irrated, you should have an even sheen across the surface. This is an indication that your surface is now flat and leveled within an 1/8" tolerance.
Repeat this process, until you are complete. Allow to dry overnight.
Perform a moisture test, by taping a piece of plastic onto the surface. Inspect the plastic, for condensation. If, there is condensation, allow more time for the self-leveling compound to dry. Before installing your new engineered hardwood floors.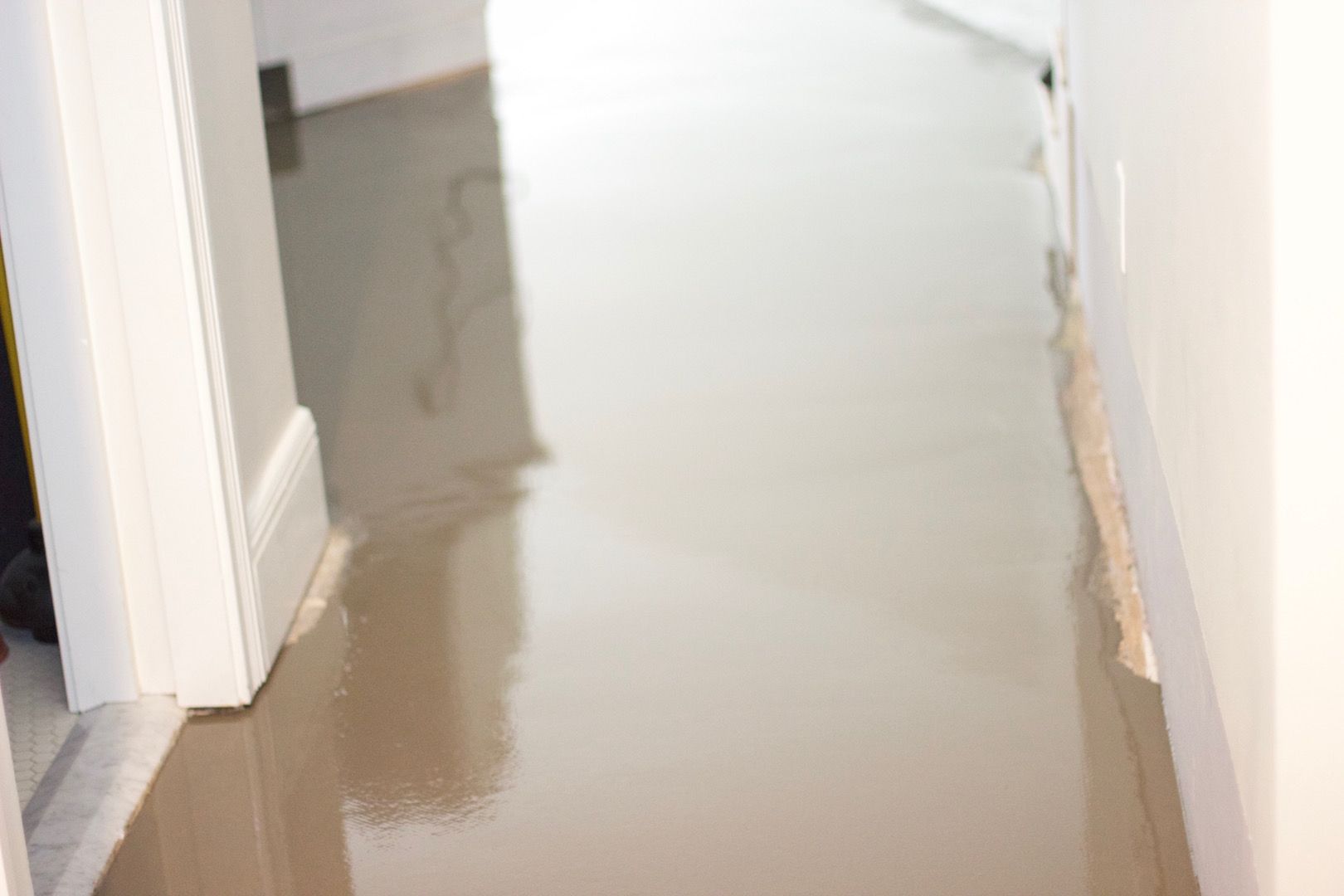 Concrete floor leveling only works, when you pour the entire area
Simple as that, concrete floor leveling is an easy task. It's not inexpensive, due to the cost of the self-leveling compound itself. Which starts at $37 per 40 pound bags. Depending, on the conditions of your concrete floor. The cost of just purchasing the floor leveler can be very high. But the cost should not out weight the benefits that it will provide you. You will have a flat solid surface to glue or float your hardwood floors. Hollow spots and bounces are eliminated.  Avoid having your floor installation warranty being voided. Perform a concrete floor leveling for proper wood flooring installation.

Click here to go to our glue down flooring page.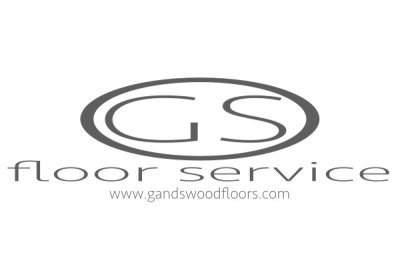 Professional Development: G & S floor service