Floor buffer - A must have wood floor tool
Floor buffer is a must have wood floor tool - Why? This hardwood floor machine is the most versatile machine compared to all of the other hardwood flooring machines.  This does not mean you do not need a drum sander or edger. You very much still need these  important hardwood floor sanding machines for your rough, medium and final cut. A floor buffer is more than a machine that does the final sanding. Aside from a final sanding, you can use it for grinding, adhesive removal, flattening a wood surface, wire brushing, in-between coat abrasion, cleaning, waxing, polishing,  stain and finish application. As you can see there are many uses for this hardwood floor sanding machine.
Floor buffer parts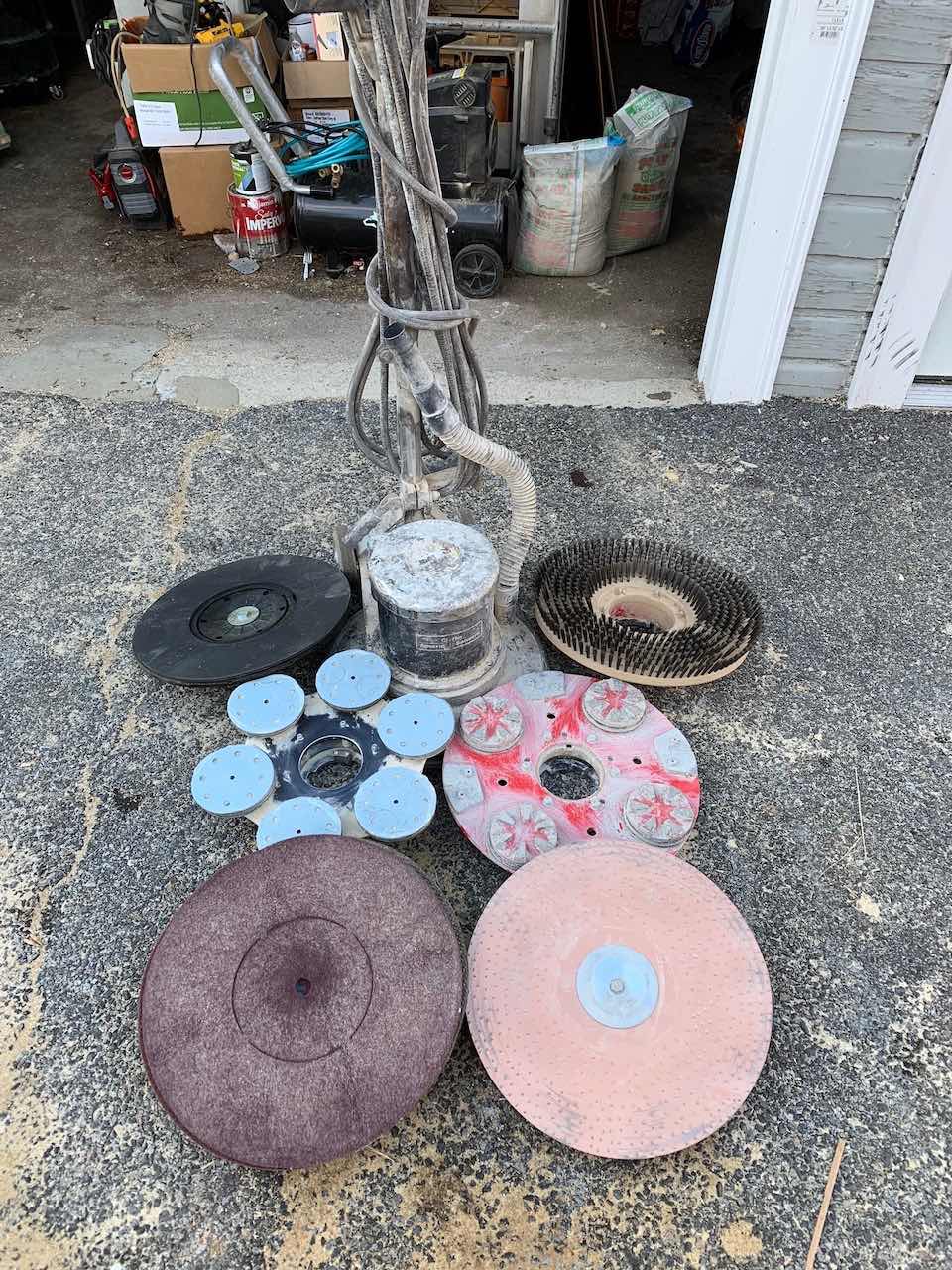 Floor buffer attachments
There are tons of after market floor buffer parts and attachments available today. You can do a google search. I am sure you will find what you need, for your category of work. You can get concrete prep tools, wood texturing, cleaning attachments, hard plates, multi-head sanding plates, etc. There are weight kits available for those light weight floor buffers and Water/shampoo tanks for janitorial work. Why would you even need all these attachments? After all you're only working with hardwood floors.
Read along and find out more.

Using the versatile floor buffer for surface preparation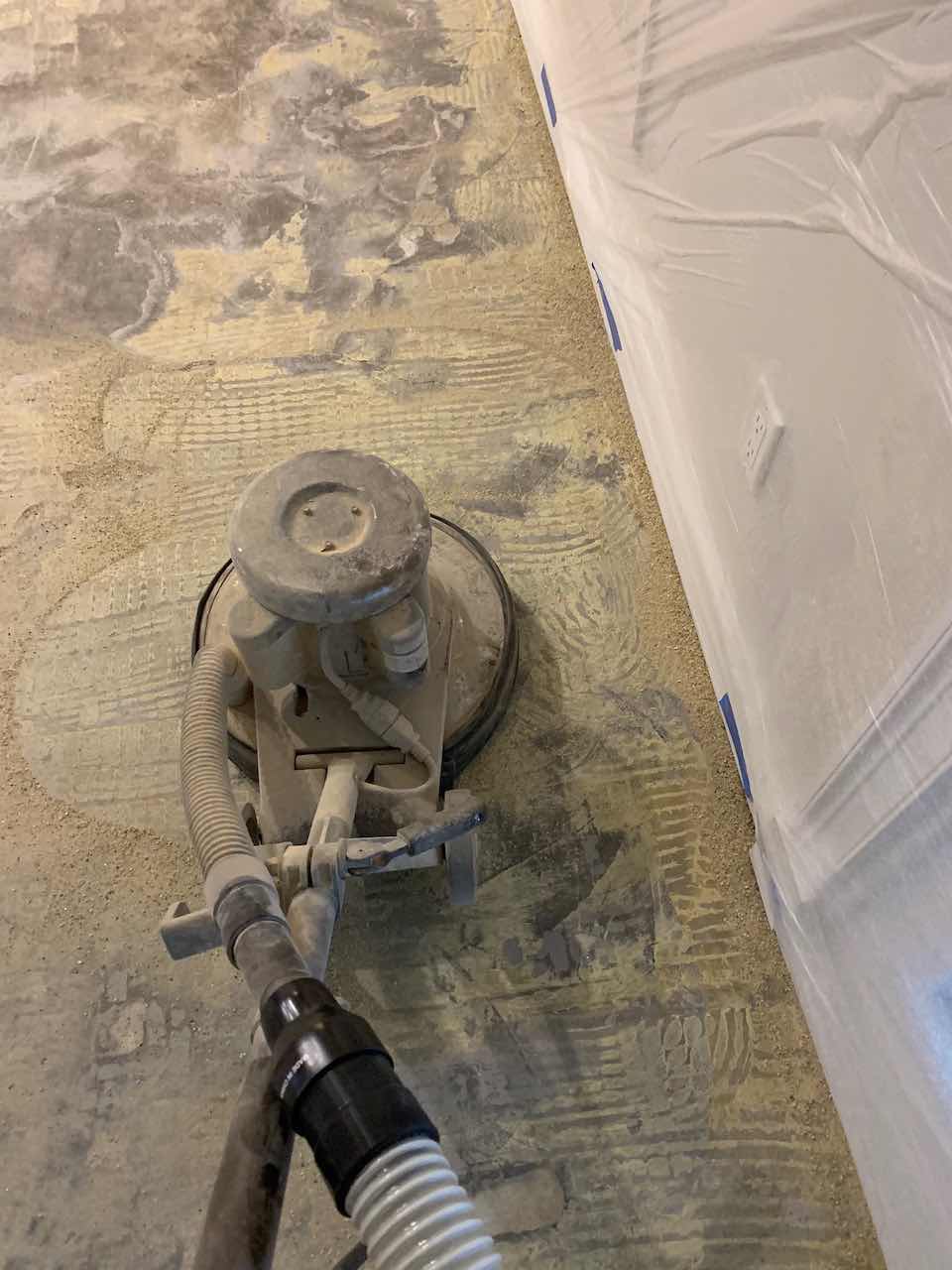 Using a buffer to remove polyurethane adhesive as part of a subfloor preparation.
If, you need to prepare a concrete subfloor for grinding or a hardwood subfloor for refinishing by removing dried flooring adhesive. You can use a scarifying tool to cut away adhesive up to 1/4" thick. You can also, use a scarifying tool to remove epoxy finishes.
Flattening a concrete slab using a floor buffer.
If, you need to prepare  your concrete slab for skim coating, leveler, a floating or glue down installation. Be sure to choose the proper type of grinding heads for those tough aggregates. There are diamonds available for fast deep cuts to polished finishes.  Wet grinding will help keep your diamonds cool,  long lasting and dust free, if, you don't have a fine dust containment system. There are water tank attachments for wet grinding. And weight kits for added weight to your light weight floor buffer.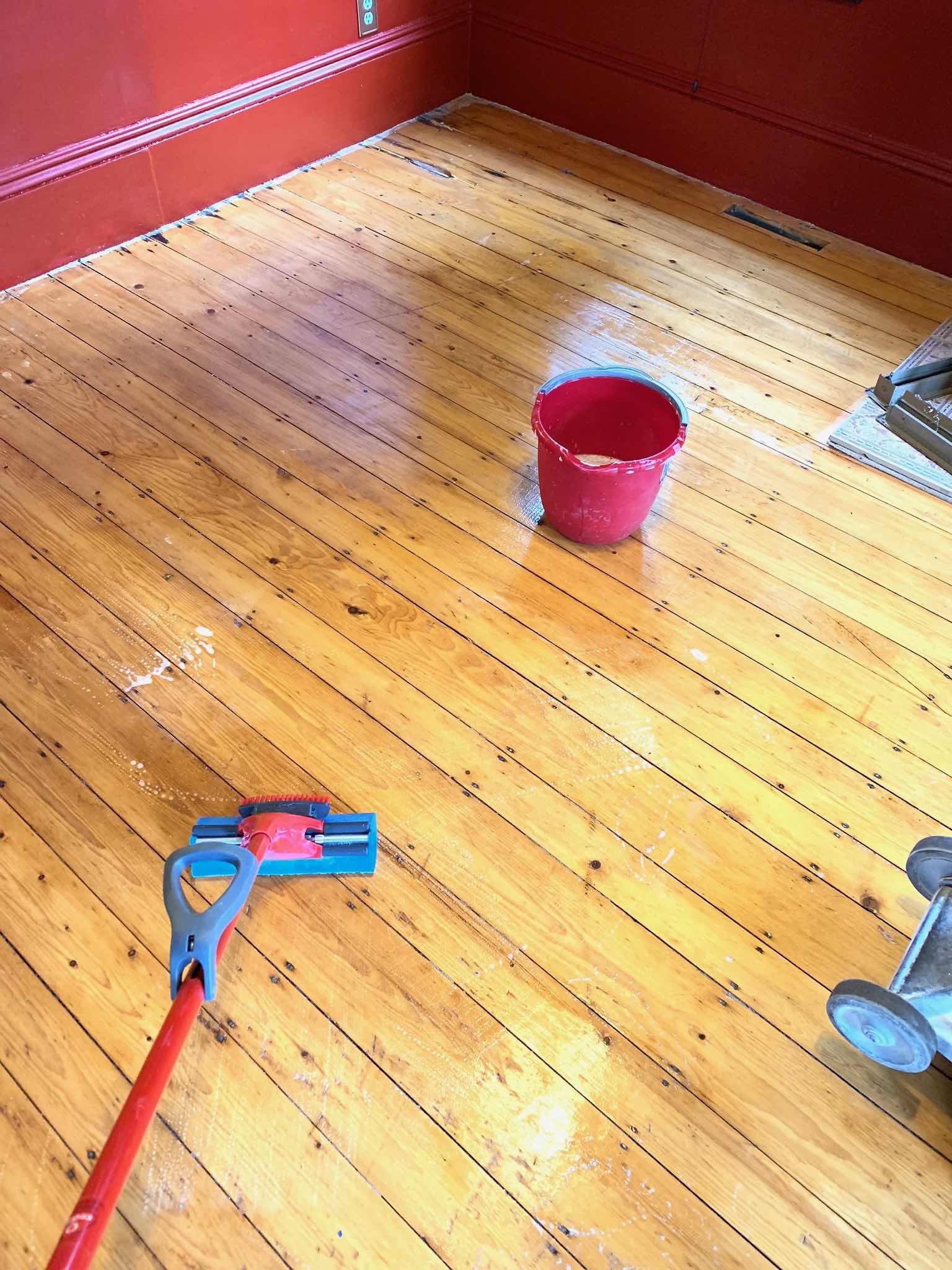 Using a floor buffer for deep cleaning.
Doing a screen and re-coat? Use a floor buffer for the deep cleaning required prior to screening to remove oil, wax, dirt and residue build-up. This will help prevent clogged screens or sandpaper. Making it, an easy abrasion process.
Using the versatile buffer for finish application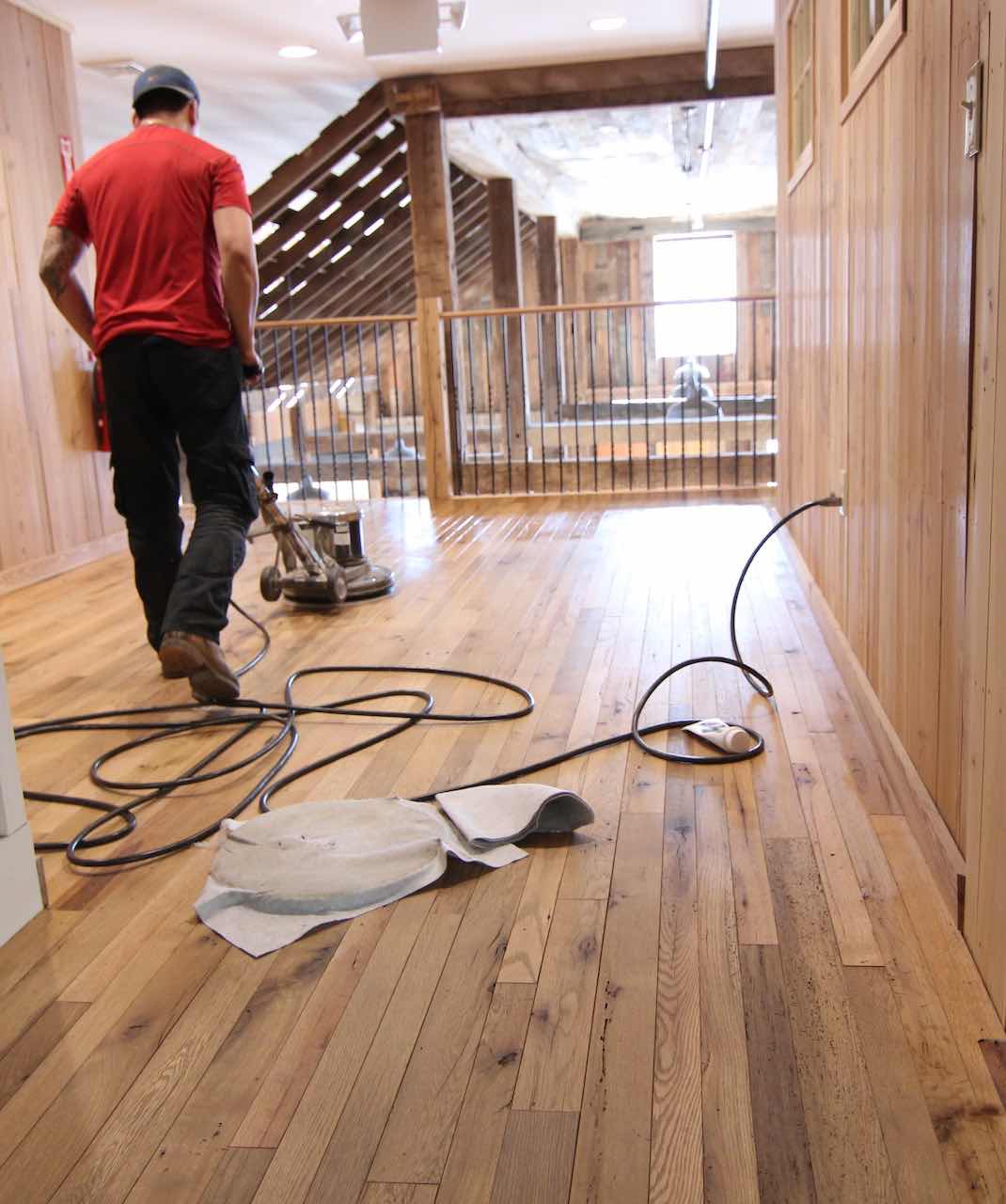 Using a buffer to maintain an oiled finish with Woca's maintenance oil.
Floor buffers can be used to apply floor finishes such as wax, natural oils and hard wax oils. Floor buffer pads and specialty cloths are used. Always soak your pads and rags in a bucket full of water, before safely disposing it, to avoid combustion.
Applying wood stain using floor buffer.
Bad back, shoulders and knees? Your body will thank you, when you use a buffer to apply your wood stain. Having to stain several thousand square feet on your hands and knees can get tiring and labor some. Speed things up and cut down on labor and avoid the aches and pain by using a floor buffer. Easily wipe-on and wipe off with a couple of floor buffer pads.
Using a buffer for in-between coat abrasion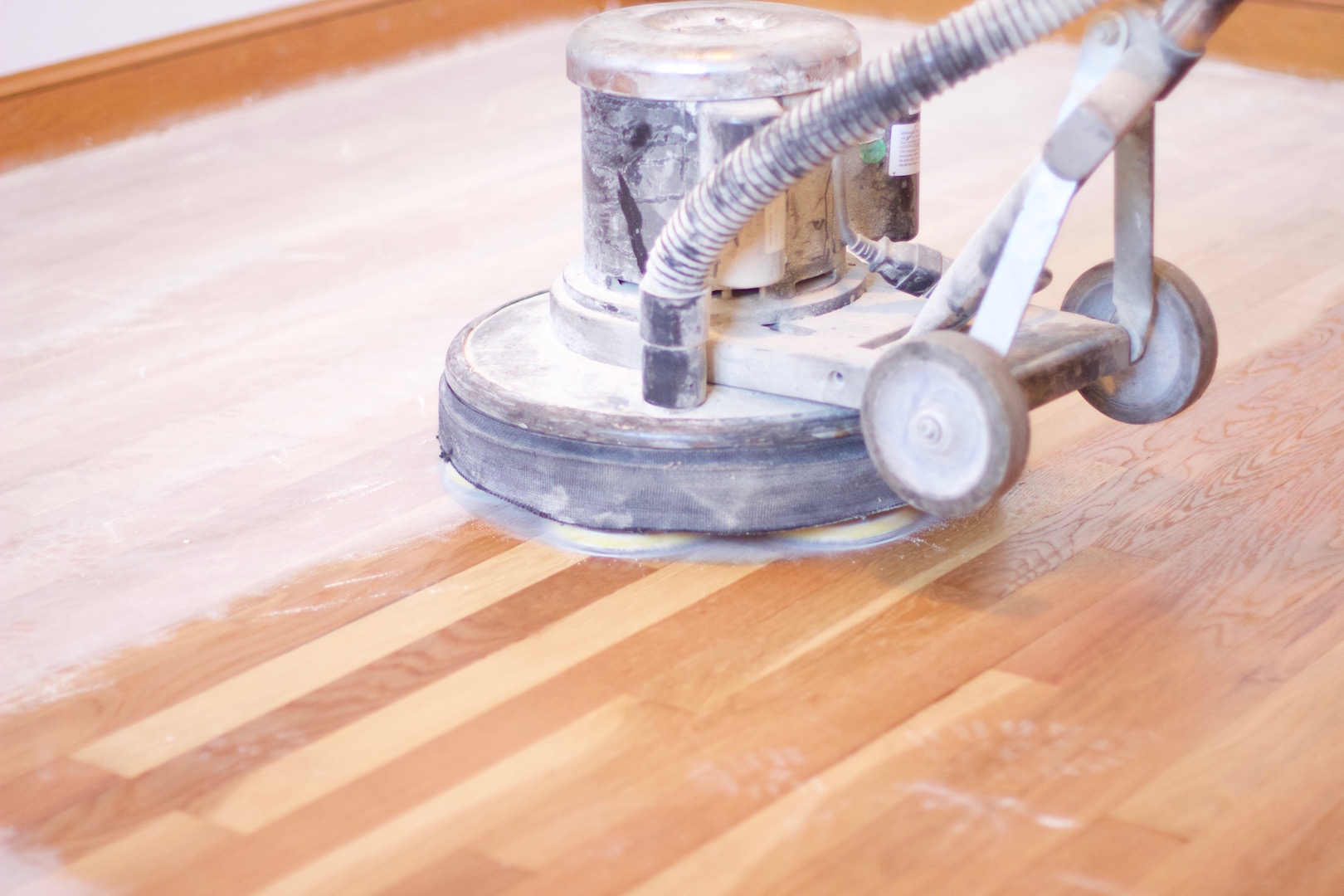 With the right tool, you can rapidly abrade your polyurethane finish. 3000-5000 square feet, no sweat!
Whether your preference is a maroon pad with sanding strips, sand dollars or a multi-head with. With the right buffer pads and minerals. Lower the risk of adhesion failure and get smooth finish.  You can rapidly do in-between coat abrasion. 3000-5000 square, no sweat!  You can also, use your buffer for your final sanding prior to applying your first coat. Use a multi-head to flatten, remove drum and edger marks. Blend edges and the field for a flawless surface finish for staining. You can use a buffer with a hard plate attachment, such as a multi-head to sand your subfloor prior to installation. To help flatten wooden subfloor panels or remove coatings from Advantech high performance subfloor panels for a glue down installation.
Using a buffer for distressing wood surfaces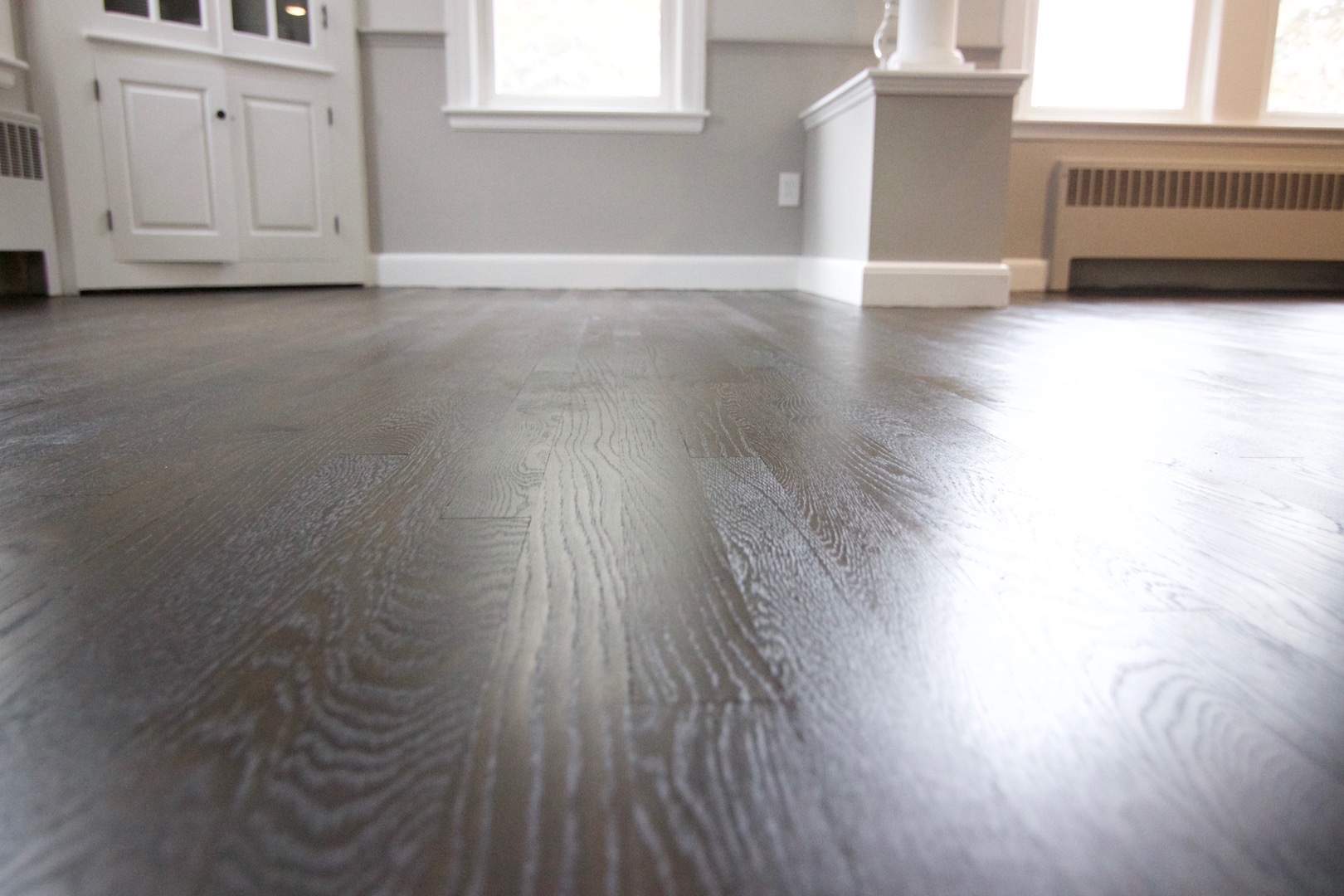 Light wire brushed hardwood floors
Enhance the look of your wood floors by wire brushing for a distress floor. You can lightly wire brush or do a deep wire brush to give your wood floors a unique look and feel. There are wire brushes available at different lengths and material. For a deep wire brush texture, use a disc with shorter stiffer brushes.
Why not use a buffer?
There is no reason to not use a floor buffer machine as part of your wood flooring installation or hardwood refinishing project. It is a versatile floor machine, that you must have as part of your artillery. With the right attachment, there are no limits to what you are able to do with a floor buffer. For more floor buffer parts. Visit Ceno-usa.com 
Don't know how to use a buffer? Click this link here to learn how to use one.
Choose an ideal company
You have done all the research and now have the knowledge. Don't choose the wrong flooring company.
Why work with average, when you can work with an ideal hardwood flooring company? Avoid opting for sub-par products, poor workmanship, the lack of industry knowledge and training for the sake of something new. 
With G & S Floors, you will experience optimum personal service, with superlative, effective premium quality workmanship in the industry and high quality products. Homes are one of the biggest and most important investments and should be cared by an ideal company.
We've been in business over 19 years. We are a NWFA flooring contractor and follow industry standards and best practice for hardwood flooring installation, sand and finishing. We have access to training and ongoing professional development. We have a well trained staff and we never stop learning. We have a powerful network of talented professionals, distributors, manufactures and experts.
Invest in "Quality" for better service and hardwood flooring that can last a lifetime or centuries!