Types of Floors
Construction Styles to Choose From
With so many to choose from, which types of floors do you choose?

Solid Hardwood Floors, Engineered Hardwood Floors, or Laminate WoodFlooring?

Whether it's Solid, Engineered, or Laminate. The following information, will help you determine, which of these types of floors are best for you.
Solid Hardwood Flooring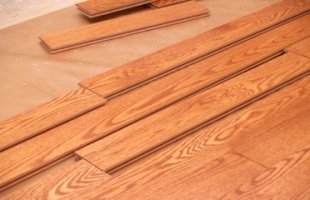 3/4 Solid wood flooring
are found commonly, in most homes, whether it's
pre-finished or unfinished
hardwood floor. The general installation method used is a staple/nail down method. They last long and have very little problems with them.
These type of flooring are fasten to the subfloor by using a
nail/staple down installation
method. You can install your own floors with the proper tools and save money from hiring a flooring contractor.
They're normally
installed above grade
, 1 rst or 2nd level of home. Away from areas that has
moist air vapor
, which can cause
buckling or cupping
.
Although, with the
right type of subfloor
, it can be installed below grade also. If, you're
finishing that basement
, you can also use this type of hardwood flooring.
Due to it's thick wear surface.
The life of a 3/4 wood flooring
is longer compared to 1/2 or 3/8 solid wood flooring. With these types of floors, you're able to refinish the wood flooring more often, to remove damage or just have a new clean look.
You may want to consider the different hardwood floor thicknesses available. If you need to
match a height, or have a height restriction
. Areas like under baseboard heating or appliances.
Otherwise, always use 3/4 thickness
, when installing wood floors. They'll last longer, Which makes it a better investment.
---
Engineered Hardwood Flooring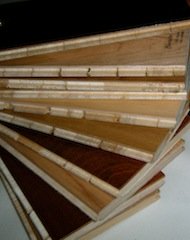 Engineered hardwood floors
are commonly used in basement areas (below grade application), over a concrete subfloor. The installation method used for this flooring are glue down flooring, floating flooring and staple down flooring. With it's
stability and construction style
, it can be installed with ease.
Use oil base(recommended)polyurethane flooring adhesive (see
installation
section, for more details), when installing engineered flooring. Polyurethane hardwood flooring adhesives have a
longer open time
, so there is
no rushing
. And is a
better vapor barrier
, than the latex base flooring adhesives.
These types of floors can be
installed as a floating floor
. You can have a
soft surface
to walk on, which is
more comfortable
on your feet and back.
Engineered hardwood floors can be
installed above or below grade
. Regardless of what type of climate condition you live in,
wet or dry
. You'll be able to install this type of floor, in your home, with no problems at all.
Engineered wood flooring are
more stable
than solid wood flooring.
Expanding and contracting is reduced
, which will
prevent buckling, cupping and gapping
.
Concrete subfloors will constantly give out vapor
. Which can cause all kinds of problems, if you install a solid hardwood flooring.
Engineered hardwood floors have a
plywood style construction
, this types of floors is
perfect
for installation over concrete subfloors. With a direct installation, there's no need to install a wooden subfloor, which makes it less work and more time to enjoy other things.
When you decide to purchase, this type of floor
.
Select one with a
thick wear surface or layer
(depending on your budget). It will last longer and money will be well spent, and you can refinish the hardwood flooring 3 or more times.
A
thinner wear surface
, will save you money, but the
life expectancy
of your engineered hardwood floors
will be short
.
A thicker wear surface is a smarter investment
.
Engineered flooring are available in thicknesses from 3/8 - 3/4 thick. So matching a specific height, should not be a problem.
---
Laminate Flooring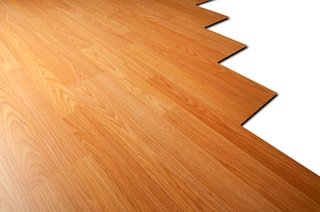 Laminate Flooring
is a photo image, laminated on either a paper backing or plastic type material backing. Which gives an artificial look.
These types of floors are generally installed as a
floating floor
. Which will give you
extra comfort
, for your feet.
The tongue and groove,
interlocks
to each other, also referred to as either uni-clic or click and lock systems. This makes it
easy
for any home owner to install
and save money.
Laminate flooring are durable and can last a long time. They're built to withstand high traffic at a low cost.

They cannot be refinished.
I don't recommend using this types of floors(my opinion) in a commercial area such as a restaurant or retail store.
Commercial spaces like these get excessive cleaning.
Water can find its way between the joints over time. Causing laminate flooring to cup, and weaken overtime.
"I've seen a restaurant, that had this type of problem."
Use this type of flooring, in an
area that won't get excessive mopping
.
Living room, dining room, bedrooms, family room
are best areas to install your new laminate flooring.
Your investment will go further
.
---
Pre-finished, Unfinished, Solid, Engineered or Laminate?

With all this information you should be able to select the perfect type of wood flooring for your home.

Choose one and I'll help you install it!

Solid Hardwood - Staple Down Method

Engineered Hardwood - Glue Down Flooring

Laminate Flooring - Floating Floor
G and S woodfloors Lynn,Ma.
Google+