Choosing The Perfect Hardwood Flooring
Before you choose a hardwood flooring.

Understand that it is not a commodity, it's a luxury.


"You are spending a lot of money, spend wisely"
Choose a type of wood floor, that will cause little problem, easy to maintain, durable, most of all one that will make your home look good and add a lot of value.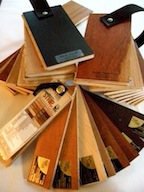 Domestic Hardwood Floors
Start by taking a look at these
Species
here. They're durable, widely available, look good and
they won't break the budget
.
You can use these with any interior design style -
Contemporary, Eclectic or Traditional.
There are a variety to choose from.
White oak, Red oak, Maple, Birch, American Cherry, and Santos Mahogany.
These are
the most popular hard wood floors
, found in most homes.
"Sye - helped me select the right flooring for my home.
The final decision was bamboo - and I love it."
-Connie from Cambridge,Ma.
Exotic Hardwood Floors
You want to be more unique
.
"Be the talk of your neighborhood"
Choose an
exotic hardwood flooring
like
Teak, Ipe wood, Brazillian Cherry hard wood floors, Sapelle, and Merbau
to name a few.
Exotic hardwood floors are durable, and have a unique look. You don't have to worry about dropping things on them, and
they'll still look great
.
They make a room stand out,
your friends and family will always talk about them
.
You'll find a lot of suppliers that carry exotic wood flooring, there's a right one, for you.
They're affordable
, you can have a unique wood flooring without breaking the bank.
Reclaimed Hardwood Floors
Are you an Eco-Friendly person
?
Reclaimed wood floors
is for you. You don't have to worry about any forest being destroyed, just so you can have wood flooring, for your home.
There are a lot of flooring companies that specialize in reclaiming wood floors. Visit one near you and choose from their showroom.
Worm holes, nail holes, knots, saw marks, hand scrapes
, these wood flooring characters will give your interior design a unique look.
They'll be a new focal point
.
Choose from
Heartpine, English Chestnut, Spruce, Pumpkin Pine, and more.
For more information on reclaimed wood floors or antique wood floors visit
Longleaf Lumber
Northern Wide Plank
Recycled Flooring
Visit Construction sites in and around your neighborhood. You can purchase old flooring from home owners or get them for free by volunteering to remove it for them.
A
low cost
way to get an eco-friendly reclaimed flooring.
With so many selections of wood flooring,to choose from.
Find the right one for your interior design idea
.
Now, that you have the look that you want.
Learn about wood features and flooring type
. Find out which ones are best for you and your home.
Character
Prefinished or Unfinished
Solid, Engineered hardwood or Laminate

G and S woodfloors Lynn,Massachusetts
Google+