Refinishing Hardwood Floors - How To
Refinishing hardwood floors isn't hard to do, just time consuming.

Regardless of what type of wood, they can all be refinished.

Some are more difficult to sand than others, but it can all be done, using the same floor refinishing method.


If, you can commit some time, you can have a beautiful looking floor, that you can enjoy and save money at the same time.

So put your work wear on, and let's get started.


---
Warning - If you have a bad back or cardio issues, avoid sanding wood floors. You will injure yourself.
---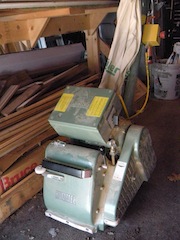 You've completed your new wood floor installation. Now, it's time to finish it.
Have you
decided
how you want your woodflooring to look like?
If, you haven't done so yet, visit the
interior design idea
page and our
gallery
for some ideas, then come back when your ready.
Whether, it's a
natural wood floor look, or a stain look
, you'll be able find one that suits you.
Refinishing Oak Wood Flooring
We're gonna focus on
sanding Oak wood flooring
.
This hardwood floor is common through out most homes in the U.S. And it's one of the
easiest type
of wood flooring to work with.
Refinishing hardwood floors consist of
preparing
the wood flooring, by sanding, then
applying
the wood floor finishes.
That's all, not much to it. So don't be overwhelmed.
This
step by step
guide will help get the job done.
---
Tool List
Flooring Tools needed:
all tools can be rented
Drum
or Belt Floor sander - Use to
sand the body of the floor
- refinishing hardwood floors.
Home centers offer
110v machine
, which plugs into a wall outlet. It's
not as powerful as a professional machine
but will do the job, just requires extra time.
The floor sander
can cause overloads on your breakers and fuses
, use a 20 amp outlet, commonly located in kitchens and baths.
Industrial tool rental suppliers carry
220v machine
, which are normally ,
wired directly to your electrical panel
, with alligator clips. If, you're not sure about how to use alligator clips. Ask, if, they have
twist and lock adapters
for electrical dryers or ranges. These adapters will save you time, safe to use, and you'll avoid serious injury.
Edger
- Floor edger are used for
sanding along walls and small areas
, where the drum sander can do. Such as Hallways, closets, stair treads and landings.
Under radiator sander
- some home center may carry this. When, refinishing hardwood floors, use this tool to
sand underneath cabinet toe kicks, low shelves, under baseboard heaters, radiators, and any hard to reach areas
.
Hand scraper and file
These tools have to be purchased,
they're nice to have in the tool box
. You'll need this tool, to
clean up corners
and any areas where the edger can not get to.
Floor buffer
Use this tool with a
120 grit screen
after sanding is complete, and in between coats, when refinishing hardwood floors. This machine will
blend in the edger and the drum sander
together, to prevent a picture frame effect. Use it to
remove brush marks, bubbles and raised wood grains
.
Vacuum
After sanding wood floors, Clean, clean, clean, before finishing your hardwood floors
Microfiber tack mop
This will make your finish smooth by
removing fine dust particles
that are not visible to the naked eye, when done properly. You can use this as a
dry tack or wet tack
.
Abrasives
Use
60, 80, and 100 grit
for drum, edger, and radiator sanders.
If your refinishing hardwood floors, that are older. You should use
36, 60, 80, 100 grit
abrasive. If, they're really stubborn finishes, start with 15 or 20 grit sandpaper.
Use a
new 120 grit screen
, with a white cleaning pad for buffer after the wood floor sanding is complete. Then use the
worn down screen
for in-between coats. I recommend using a new piece of 150 grit screen prior to your final coat - Oil base polyurethane only.
100,and 220 grit
for orbital sander.
Round orbital sander
This tool is not necessary. You can always hand screen or buff, the edges, but if you don't like to work hard like me. Use the Orbital sander. Do not use a oscillating sander (square vibrating type), when, refinishing hardwood floors. They'll do more damage than good, sanding your wood floors
Mineral spirit
For cleaning and tacking
Applicators
Use a
4 inch bristle brush
for coating along edges, a
light lambs wool mop applicator
for the body of the floor.
When, refinishing hardwood floors, it's important to
purchase the right type of applicator
, for the use with the
proper wood floor finishes
.
Avoid using a multi finish brush
.
Ex.
all-paints brush, which is used for latex and oil.
The wrong, type of brush, will
prevent the wood floor finishes from leveling properly
, resulting in
brush marks
.
Use the correct applicator
, when refinishing hardwood floors, for the proper wood floor finishes.
Finish
Stains, sealers, and polyurethane (latex or oil base) are the most common for wood floor finishes. There are other finishes like tung oil, floor wax, moisture cure, and Swedish finish (acid cure - illegal in some U.S. states).
Plastic and masking tape
Use a
low tack tape
for those delicate surfaces. Seal off any areas that your not working in.
Consider a
stick-on zipper
, for those frequent traveled areas, to get in and out.
---
Preparation
Before we begin the process of refinishing hardwood floors. Let's start with
sealing off our work area with plastic and tape
.
Set all our nails and apply wood putty
in any necessary areas, like over nail holes and unwanted gaps.
You'll be
repeating this process
as the project progresses. It's okay if you missed some spots.
Some of the
wood putty will be removed by the sanding
, so I wouldn't worry to much, either.
although,
the more you do now
, it will
save you time later
. Just something to consider.
Click on a page to learn how to perform each operation.
Sanding The Body - How to use a Drum Sander
Sanding The Edges - how to use a floor edger
Sanding Under Radiators, Cabinets And Hard To Reach Areas

Hand scraping Corners And Edges

Fine Tuning The Edges And Corners
Buffing And Screening - how to use a buffer
Vacuum And Tack - how to clean
Now, we're ready to apply the wood floor finishes.
Applying Wood Floor Finishes
Learn sanding tricks and tips
on
refinishing hardwood floors
on certain types of wood flooring like:
Antique Flooring
Reclaimed Heart pine Flooring
White Pine Flooring
Maple Hardwood, Birch, and Beech Hardwood Flooring
Brazilian Cherry, Santos Mahogany, Teak, And Ipe Wood Flooring
White Oak and Red Oak Hardwood Flooring
Repairing Common Wood Floor Sanding Issues
Too much work for you. Massachusetts residents looking for a flooring company.
Contact us
, for your project.
G and S woodfloors Lynn,Massachusetts
Google+