What You Should Know
About Your Hardwood Staircase
Before Installing
Hardwood staircase installation to your home is a great investment. It gives your house great character. And ties your main level to the other areas.

Your staircase with the right appearance, it will invite your guess to the rest of your home.


Sure, carpet is warm and cozy, but over time
dirt
will build up on it. Then, the
edges wear out
, so much they get slippery, turning into a
hazardous condition
. Maintenance becomes
labor intensive and costly
.
So swap that old carpet covered steps out, for nice shiny
wood staircase
. Visit our
staircase gallery
to take a quick look, then come back.
Hardwood staircase treads
are available in
unfinished and pre-finished
wood. So you have a choice of which type you would like to use. Keep it
simple
and have
pre-finished manufactured look
, or put a little
time in
and make it
look unique
.
Of course there are
pros and cons
to both of them.
Pref-finished Stair Treads
Prefinish wood staircase treads
, requires
no sanding or finishing
. It requires
less time
to complete. All you have to do is install it, then fill the nails holes and your done. You don't have to spend the night, on the couch or in the basement.
That's the Pros of it, as for the Cons
.
When a
15 gauge pneumatic nail
penetrates the hardwood tread's surface.
Material bulges up
, sometimes causes a splinter.
You'll have to
remove this or use a tapping block and hammer to set-it back down or sand it down
.
You have to
be careful
in handling it, during installation, to prevent scratches or any damages, otherwise you'll adding more work by sanding it.
Some prefinished wood staircase treads
do not come with a return
. A
Return
is a finished end cap, piece that has a rounded edge, which gives it a finished look.
If you have
balusters
that are installed on top of the stair tread. You'll
need a return
here.
If, your prefinished hardwood stair treads
cannot be purchased
with a return, then you have to
make one
. Which requires sanding and finishing. No one like's unnecessary work, were trying to make things easy for ourselves.
Prefinished hardwood staircase treads are not available in every species
.
You're only
limited
to what's available on the market only.
Check
with your local hardwood flooring supplier to find out, which species are available in pre-finished treads.
Unfinished Hardwood Staircase Treads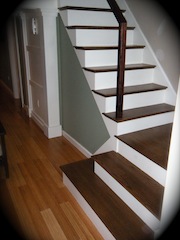 Unfinished hardwood staircase treads
requires sanding and finishing.
The
Cons
, we get the
dust storm
and have to deal with
fumes
.
It's more
time consuming
to complete, because of coating. Well, it's not a perfect world.
The
pros
for unfinished wood staircase are, we get to mark up the material and
not worry
about it. Because we can
sand
any damages out before applying our finish coats.
We can fabricate any
parts
needed. There's
no wasting time
, trying to find items that are not available.
You can
apply stain
, to give it a more exotic look.
Make your stairacse
stand out
from the rest of the neighborhood.
Apply a
top quality finish
, to get the protection we need. You'll be able to
manage the quality
of your own finish and not be at the manufacturer's mercy. There are bad quality prefinished hardwood out there.
You can always
prefinish
, unfinished wood staircase treads, before you start the
staircase installation
. You can
save time
and it's
less costly
than prefinished stair treads.
---
Choose your type of staircase, and let's get started on the installation
.
Read the first article for a
general idea on how to install
your hardwood staircase treads.
In the first article, our focus will be
replacing a wall to wall
, plywood stair treads for oak
hardwood staircase
treads.
Why oak
?
They're always
available
. They're
commonly found
in just about any homes. You can
purchase
them, at a home center near you.
You can always
purchase
your stair parts from our advertiser's available on this page. If, your local supplier
cannot find
a specfic stair part, that you need.
If, you'll be
installing
your own staircase. You can use the money that you'll be saving on labor and
upgrade
to some exotic wood, if you like.
Keep in mind that,
specialty treads
are special order. Any
mistakes
can cost you. So
take your time
, and you'll be able to
complete
this installation in no time.
Staircase Installation
Stair Winders
Staircase Installation Images
Starting Steps
Open End with one Return
Open End with a Double return.
G and S woodfloors Lynn,Ma.
Google+