Wood Dye Stain Gallery

Maple hardwood floors stained with Dark Walnut wood dye stain Gallery
Renovations by The Chelsea Company
Wellesley, Massachusetts



Maple hardwood floors
Interior wood stained with Transtint - Dark Walnut wood dye
on a Aniline Project
Renovations by The Chelsea Company
Wellesley, Massachusetts

G and S Woodfloors.com Wood Dye Stain Gallery



2 1/4 Clear Maple Hardwood flooring
Interior wood Stained with Dark Mission Brown - Trans Tint wood dye - 80% diluted
Topped with 3 coats of Absco - Satin polyurethane
Renovations by The Chelsea Company
Wellesley, Massachusetts



2 1/4 Clear Maple Hardwood flooring
Stained with Dark Mission Brown - Trans Tint wood dye - 80% diluted
Renovations by The Chelsea Company
Wellesley, Massachusetts



2 1/4 Clear Maple Hardwood flooring
Stained with Dark Mission Brown - Trans Tint wood dye - 80% diluted
Renovations by The Chelsea Company
Wellesley, Massachusetts

G and S Woodfloors.com Wood Dye Stain Gallery



2 1/4" Common #1 Red Oak Flooring
Expresso Brown Mahogany stain
applied to cover up all knots and unwanted characters
Top coat with Bona "Sport Poly" Gloss
Renovations by BB Unique Remodeling
South Bay, Boston, Massachusetts



2 1/4" Common #1 Red Oak Flooring
Expresso Brown Mahogany stain
Top coat with Bona "Sport Poly" Gloss
Renovations by BB Unique Remodeling
South Bay, Boston, Massachusetts



2 1/4" Common #1 Red Oak Flooring
Expresso Brown Mahogany stain
Top coat with Bona "Sport Poly" Gloss
Renovations by BB Unique Remodeling
South Bay, Boston, Massachusetts



3/4 Red Oak stair treads, with white painter risers
with Beech handrails, and white painted decorative balusters
Stair treads - 3 coats of Bona "Traffic" Polyurethane - Gloss
Handrails and treads, General Finishes wood dye stain - Light Brown
Stoneham, Massachusetts



Modern Custom Fireplace Surround/Mantel
We mixed wood with metal to give this fireplace mantel a custom look
3 coats of Minwax "Spray" Polyurethane - Satin
Birch Wood panels stain with Transtint wood dye stain - Cordovan
Lynn, Massachusetts



General Finishes Expresso water base stain
Salem, Massachusetts



General Finishes Expresso water base stain
Salem, Massachusetts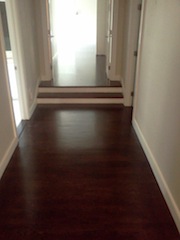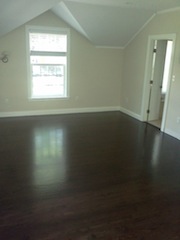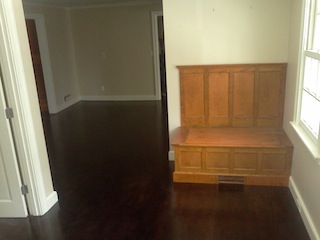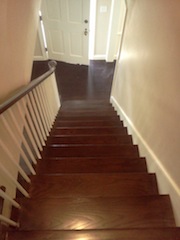 General Finishes Dark Brown Dye stain
Wellesley, Massachusetts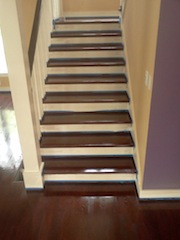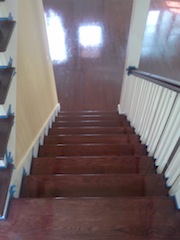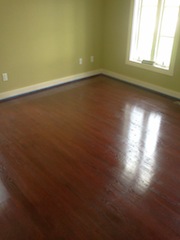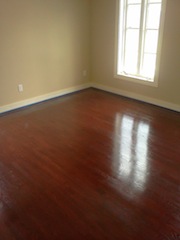 General Finishes Rosewood water base stain
Top coat with 3 coats of Bona Sport Poly
Needham, Massachusetts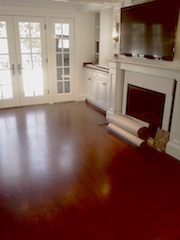 General Finishes Antique Cherry water base wood stain
Wellesley, Massachusetts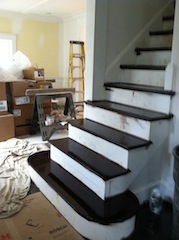 General Finishes Dark Brown wood dye stain
Renovations by The Chelsea Company
Needham, Massachusetts



Layering wood dye stain gallery:
General Finishes light Brown wood dye stain was used for a based coat.
Then Minwax Dark Walnut was applied for second layered color.
Giving us a unique, deep, rich color.
The light brown gives off a reddish brown hue when layered with the Dark walnut.
Which is the primary color.
3 coats of Bona "Woodline" polyurethane was then added - Satin Sheen
Melrose, Massachusetts



Spraying wood dye stain:
General Finishes Dark Brown wood dye stain was mixed
with General Finishes Espresso water base wood stains.
The Wood floor finish was sprayed on to avoid lap marks for a perfectly uniformed finish.
3 coats of Bona "Sport Poly" gloss polyurethane was then added.
Lynn, Massachusetts



Spraying wood dye stain:
General Finishes light Brown wood dye stain.
Spraying wood dye stain process was used in this project, because of it's size.
A large 30' x 50' foot room with maple floors.
Spray staining helps eliminate lap marks.
We then used a water based polyurethane system to help protect the floor.
1 coat of Bona"Mega", 3 coats of Bona "Traffic" Satin water base polyurethane.
The "Auditorium" at Emmanuel College
Boston, Massachusetts



Spray wood stain:
General Finishes Dark Brown wood dye stain mixed with General Finishes Espresso.
Spray staining was completed before painting process begins.
Top coated with 3 coats of Bona"Woodline" Satin Oil base polyurethane floor finish Renovations by The Chelsea Company
Dover, Massachusetts



Layering wood dye stain gallery:
General Finishes light Brown wood dye stain was used for a based coat.
Then Minwax Dark Walnut was applied for second layered color.
Giving us a unique, deep, rich color.
The light brown gives off a reddish brown hue when layered with the Dark walnut.
Which is the primary color over these wide wide pine floors. Top coated with 3 coats of Bona "Woodline" Satin oil base polyurethane floor finish.
Wayland, Massachusetts

Learn how to apply wood dye stains to your hardwood floors.

Not the colors you're looking for, see our wood stain gallery.

Need someone to do the work for you contact us!
Don't wait, Lock in your dates today! Before it's too late.
G and S woodfloors Lynn,Ma.
Google+